Embraced By Autumn
By Ember
Embraced By Autumn is a relaxing and sweet Visual Novel about love between girls with a twist, the protagonist is a cute cross-dressing boy! I'm a big fan of Yuri and crossdressing/gender-bender romance so I really had to play this. It is available on Steam and itch.io.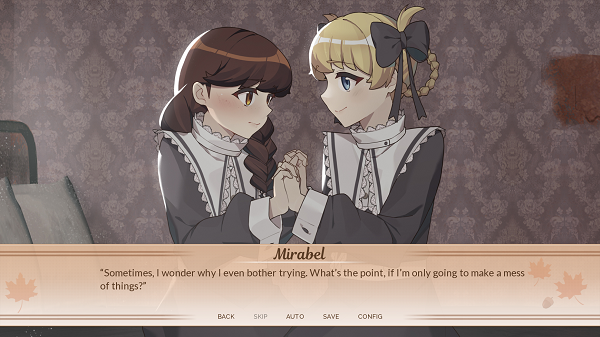 I enjoyed the writing and ambiance. The content of the romance is tame but cute and touching. The protagonist's gender identity is treated with a lot of kindness and ambiguity. I usually prefer this kind of story/theme to have more embarrassing/passionate and funny moment, but Embraced by Autumn shine in its softness. All characters are interesting and well depicted. The main character is very passive but kind. Their reasons for cross-dressing appear believable. Their questioning about their gender identity is only brushed upon but written with a lot of respect. For my pleasure, it is not cringe to read, nor it goes too deep in the drama, which is something I appreciate in fictional trans characters. The setting is France in the XIX and as a French speaker, it is amusing to read, because it reminds me of all the stories written during or about this era. My great-grandmother had the same name as the main character was a bit disturbing though! Despite a few typos here and there at the time of release, ebihime writing flows right and makes for an easy read. There is a big focus on bullying during this visual novel, simply evocated with the main character, but being the central point with two of the romanceable girls, but nothing horrible.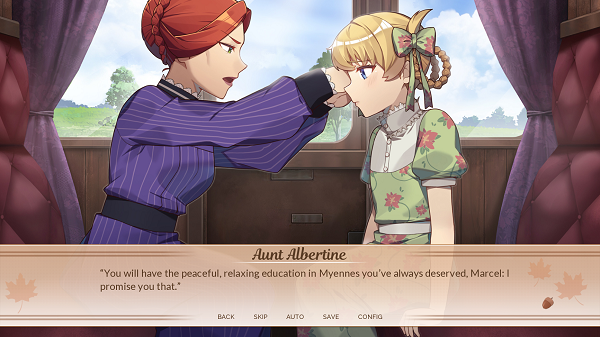 Art and Music are serviceable with some very nice CG (I really like Celine kiss CG) and some awkward ones (Madame de Brugieres looks very stiff compared to any other characters). No music felt out of place, but one or two songs appeared too much for my tastes. Character design is well done and each character looks different than others. The background art is very good and evocative of the countryside.
The VN is almost a kinetic novel, with a single choice to choose your waifu after a short introduction. There is some world building with each story giving you a little bit of background on main characters, but also some secondary characters. I enjoyed all 4 stories, even though, I felt like Mirabelle and Luce, didn't get as much love as Claudine and Celine. Finishing a single story is short (if you're more used to huge visual novels like Fate or Higurashi). However, the 4 stories combined amount for a very good read (especially if you're prone to alt-tabbing like I am). I personally spent around 12h to read everything.
Overall a good experience, well worth the full price, which makes me curious about the author's other works.
Pictures appearing on this article are taken from the itch.io page