Necromunda: Hired Gun
By Ember
This time I won't be covering a RPG but a FPS. Hired Gun is a first-person shooter set in Necromunda, a spin-off setting of Warhammer 40K. The game was developed by Streumon Studio, best known for E.Y.E. Divine Cybermancy. They also worked on adapting another WH40k game (Space Hulk) to a video game and are believed to be big fans of the game.
You are mercenary hunting down your bounties and delivering swift justice with your arsenal. A job ended up badly and your body end up wrecked. You wake up sometime later full of cyborg modifications. It's now up to you and your dog to find back the baddies who did this to you.
Fast-paced gameplay
The gameplay is fast-paced and you will draw parallels to recent DOOMs if you played them (Genre elitists call it a movement based shooter now?). Your moveset is very impressive, with jump, double jump, wall jumping, sliding, grappling, dashing, you're a little daredevil appearing and disappearing on the battlefield. You have also a plethora of weapons, power, and a dog. Overall it feels good to play and shoot, but some enemies are bullet sponges and you will need a lot of magazines to take them down. The game can be hard to read at times, with enemies being the same color as the background. To prevent this the game highlight in white the baddies, but it makes them look ugly and doesn't help reading what they are doing from a distance. I originally started the game in Hard, having played last-year-old dooms and quakes and also Doom 2016. I switched it to normal after a few missions because I was being mauled down in just a few shots. For the game to feel really good, you will need to advance sufficiently in the missions or farmed a few side-missions to unlock all your arsenal of moves, regen, and get reasonable superpowers. Once there it feels really fun to jump, kill, grapple, kill, wall jump, etc… You can also call your dog for a limited time, allowing you to see the ennemies through walls, being a target, and attacking some ennemies. Despite being heavily in all the promotion of the game, it's really gimmicky but I guess they're very close to the base material.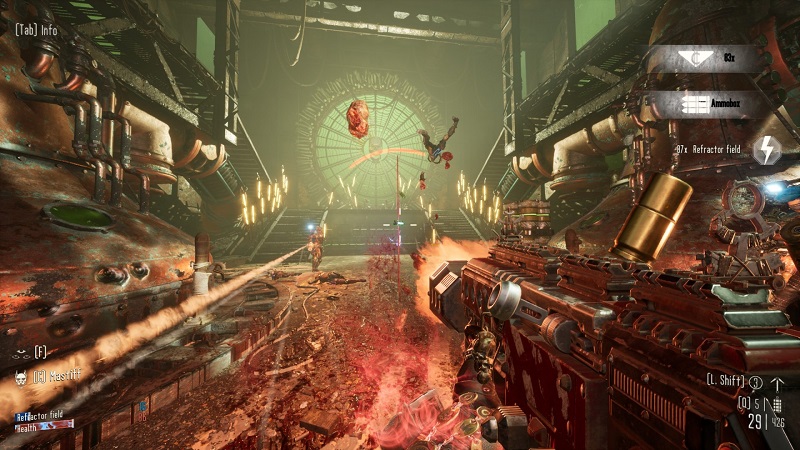 Great setting
The game takes place in the Necromunda setting of Warhammer 40k, where people live in cities housing millions of people, starting below the ground to km in the sky. In these cities, people living in the lower level have it hard and life is hard. Several gangs fight every day, for weapons, mysterious tech, food, or even a place to sleep. Overall I think Streumon really managed to adapt the settings in the level. You explore crumped dirty tunnels, with several thousands of years of dust, that end up in stupidly big abysses that are just a pipe for the esoteric machinery giving life to the hive. You feel really small and that's a good thing. The tabletop game revolves around verticality and close fight in cramped space and the videogame translates that nicely. Enemies will come from any level above or below you, trying to shotgun you in a staircase and you will need all your crazy moves to fight back. The levels are really the star of the game and exploring them feels great.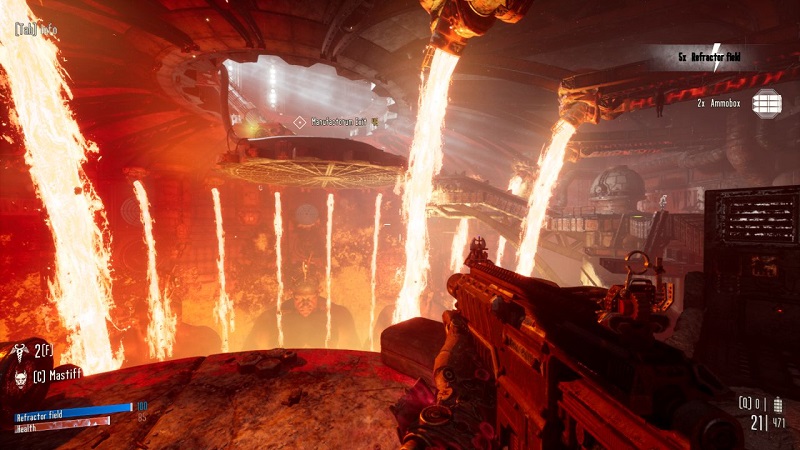 Lackluster story
The main campaign feels short (I did it in 9h with some sidequests and spending time in the hub), but it's a regular playtime for solo FPS. The side quest system makes the game endless, but except to grind weapons or your cyber augmentation, there is little incentive to play it. The story is poorly told in my opinion. There is very little story in the first place, except "you have to get revenge on the baddies". This, despite bringing in a character, Kal Jerico, hero of several books. The most narration you will get is at the moment of the final boss (where they try to explain a bit the relationship between characters and the stakes) but once you're there, you don't care anymore. Voice actors are not awesome, but they can't sublimate the poor lines they have to read. Some sequences are supposed to be cutscenes making the characters move and talk on the screen, but I've seen less stiff animation and better directing when people ERP on 2000s MMOs. The developers are known to release games full of passion but also "jank" and bugs. This game felt very finished to me, and I had a single bug through all my playthrough (I played the game mainly in January 2022).
Overall, I had fun, nearly no bug, but the game feels short and the story is really lacking. Environment and gameplay are fun, and I think you're supposed to enjoy the game with the side missions. Despite that, I wish the game would be longer or that we get an expansion adding solo content.