Sutekina kanojo no tsukurikata
By Ember
Today I will be droning out about Sutekina kanojo no tsukurikata from Sushi Soft. This game has been on my wishlist for quite some time, and I've always pushed back from buying it because it had a high price tag for the length and the Steam reviews are not great. During the last Steam Sales, I took the risk and bought the game. I am quite lenient with my VNs, they don't have to make me cry or be Fate length. They don't have to have perfect art or excellent prose.
However, Sutekina kanojo didn't manage to impress me and this review will read like a rant. But this is my space, after all, my little corner of the internet, I can rant all I want.
Presentation
This is where the title shines, we have two very well-drawn girls that are very expressive, with nice designs. We have a relatively high number of CG for the length of the game, with a lot of variation. Portraits and CG have animations, which makes it a big plus compared to VN across this price tag/length. However, a few animations can be jarring (Imagine you cut a gif at the wrong moment and it doesn't loop right). The lack of transition between scenes makes it very hard to tell if time has passed or if there was a bug. It could be on purpose, but quite frankly I am not able to tell.
Story
The story is not really good. Thank god it's only a couple hours long including all endings. The story is about an insecure nerd girl, falling in love with another girl to fall into predatory and toxic behavior. The latter can be off-putting, but this is the kind of story I was going for. I wanted my fucked up love story between girls and what I got was the idea of a story. I'm also not bothering with spoilers. If you want to discover the game by yourself, go for it and come back in 2 hours.
I do not know if the original reads this bad, or if it's the translation, but the VN starts by presenting our main character Sumure, as your typical "mental illness girl" wanting attention, cutting, and talking about suicide every sentence or two. If you ever played NEEDY STREAMER OVERLOAD (released this year), or used this software called "Discord" you must see the type. This characterization is really unsubtle, try hard, and off-putting.
She meets another girl Nazuna and quickly obsesses over her, at first in a quite cute way. You understand however that Sumire had an awful first relationship that left bad mental scars, from which she didn't recover completely. Suddenly halfway through the game, Sumire starts to be really toxic. It's very blunt and there is almost no transition. What I wanted to read is this spiraling into darkness, how pure feelings become tainted by trauma and self-deprecation. What I got, was just the result of it, a sudden explosion of toxicity from the main character. That made me wonder if I hit fast-forward or if the scenario was missing some pages.
From then the games go incredibly fast. You discover that Nazuna has troubles with her living situation. She's avoiding being at her parent and Sumire quickly offer her to stay at her home. She's very pushy but happy. Next scene Sumire makes Nazuna deletes all other people's contacts and deinstall all her social apps. Next scene she collars her, falling in the fetish territory. THIS GOES FAST. Next, Nazuna's parents abandon her and leave her in a big house. FAST. NEXT SCENE, when Nazuna still crying they go take a bath naked together? ZOOM ZOOM THIS NEEDS TO GO FAST I ORDERED THE CG BUT I DIDN'T GET THE FULL SCENARIO.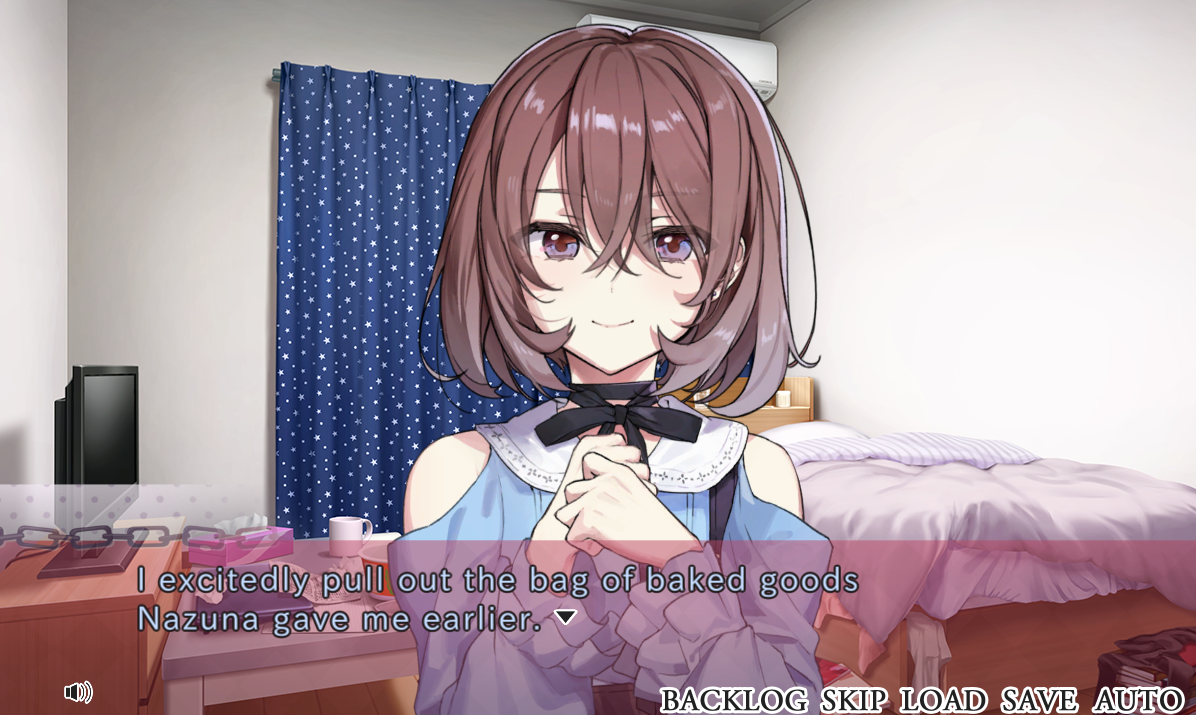 The next scene was the big reveal, Nazuna finds Sumire's phone and a video of Sumire being abused by a male Master, as well as injecting drugs into her. Follows that Nazuna is not completely sane and tries to threaten Nazuna with a knife. From here, multiple endings are possible varying from normal sex to rape, to hard abuse (kicking, forcing to eat on the floor old food and other things, drugging the other or each other, and even murder). One of the endings shows that Sumire would have been manipulated all along by Doc, from which you make most choices. In one of these subendings, you see that Doc is a brainwashing program? HUH HELLO WOLRD. You have to understand dear Reader, that every event I described might be 20 to 30 lines in length with very little build-up. Giving a very rough and confusing batch of endings.
I can see where the writers were going, in the end, you doubt everything you have seen. Sumire could have been brainwashed. Sumire could have been abused by an old catfish looking like Nazuna and she's now losing her marbles. All of this could also just be a delusion of Sumire, like one of the early endings, let you think.
And quite frankly, this would explain how fast the story goes after some point. How, in all these endings, Nazuna is a "willing victim" of Sumire rapes. Each of these scenes has an all-powerful Sumire able to do anything she wants and Nazuna being a perfect victim, weak, submissive, and completely isolated from friends and family. The game features a "VHS" effect suddenly on screen every time Sumire loses contact with reality.
It being a delusion might be what's being at play here. This could have been smart and cool if it wasn't written like a high-speed train. If the writing was slower, or if some ideas were dropped in favor of others, I am certain this game would have positive reviews.
The Lewd
Games contain numerous CG of lesbian sex and do not contain male characters but there is mention of sexual abuse by a man. The sex scenes include numerous instances of Sumire raping Nuzuna (almost all of them). These scenes contain physical violence and abuse. In one scene Sumire will choke to death Nazuna. In another, Sumire will be physically violent with kicks. In another, she will make Nazuna eat dubious things and drug her. Some scenes are about urination. It's a rather extreme VN in that regard. And I don't think it's my place to judge this content and people getting off to it so I will just talk about my personal impression.
Even if it's fictional, I usually have a hard time enjoying this kind of content. Rape and physical violence are incredibly common in all forms of pornography. However, few are presenting it in a twisted way. Few are presenting the consequences. I have a very ambivalent relationship with this kind of content where I prefer it to be highly unreal, as to not remember myself that this refers to dark realities.
To illustrate what I mean, the rapes of the main character by the bizarre and impossibles girls of Monster Girl Quest do not bother me in the slightest. The situation is completely impossible, it's pure fantasy and you can let your mind go free of fear and guilt. The whole work being light-hearted helps with this.
In normal works, the girl is raped by a guy/woman/monster/tentacles, they cum, and THE END, everyone is happy, they never existed before the rape and will not exist further in the story. It just treats rape like a normal thing and I have trouble enjoying that.
When I do, it's often because I have been eased into the story already, I care about the characters, and the rape scene can shock me/arouse me. Metamorphosis, that have been memed to death is incredibly good at this. Shindol is able to tell a dark story that remains arousing and engages you emotionally from start to finish. In this VN, Sumire and Nazuna are real characters and as a result, the emotional impact is higher. I will start to feel slightly aroused and sick in the stomach at the same time.
Unfortunately, this has the same issue as the rest of the work, it is written way too fast and there is no build-up. It is meant to be a crescendo, but it's just someone suddenly playing as loud as they can. And this ruins it all despite the CGs (animated) being good quality and the situation being hot.
Sutekina kanojo no tsukurikata is not without merits but should have really focused on fewer story threads. As it is, it's rather mediocre and very close to simple torture porn. A missed opportunity.